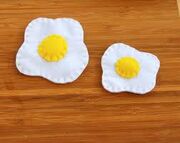 This makes 1 felt egg.
What you need;
Edit
- Yellow / Orange felt
- White felt
- Stuffing
- Yellow thred
- White Thread
- Stuffing
1. Cut out 2 white clouds or circles.
2. Also cut out 1 small circle with the yellow or orange.
3. Sew (using the yellow thread) the smaller circle onto ONE of the bigger circles. Remember to add a little stuffing!
4. Now sew the 2 white clouds together, adding more and more stuffing.
5. Tie a knot in the thread.
- Only put a small amount of stuffing in the yolk